Core Business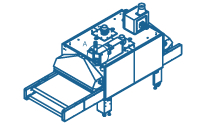 Chiossi and Cavazzuti was born in Carpi (Modena) in 1979 as a manufacturer of Dryers, specifically designed to dry inks on fabric, paper, glass, PVC and other various materials.
Our range of Dryers is extensive and includes: Gas or electric dryers, dryers with high hot air circulation, infrared radiant panel dryers, combined Dryers, tunnel or Dryers with drawers and custom-built Dryers to fulfill several heat treatment needs.
Dryers for DTG digital printing as "TETRIS" and "DIDO" feature a high recirculation of forced hot air and are equipped with the latest generation technologies, digital touchscreen PLC and advanced sensors.
For small screen printing companies the "MICRO" and "PICCOLO" ovens represent an accessible initial investment to reach relevant levels of productivity with high quality machinery.
For high production the "FAHRENHEIT", gas or electric oven, and the "NOIR" infrared radiant oven have become established reference points in the screen printing sector, thanks to the experience gained in over 40 years of activity.
Our company never ceases to innovate by creating new solutions, such as the "GRIFF" gas oven with high air circulation, designed and designed for both traditional screen printing and digital printing, anticipating the latest technological trends.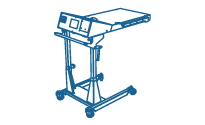 Our range of flash cures covers the needs of all screen printing machines. Each flash cure has integrated cooling fans and can be equipped with photocell and start cable to connect directly to the printing machine.
"MAGIC" flash cures are ideal for automatic printing machines thanks to the temperature control system: drying times vary automatically to prevent the fabric from being damaged with precise temperature readings. "MAGIC 25" can be mounted directly on the printing heads of some machines.
"SPOT EASY" is the most convenient when working with small printed areas. The independent control of Tungsten lamps minimizes energy consumption considerably when they are not all in operation.
"YOYO" sliding flash cure is the best solution for large printed areas. The width of the interchangeable heater varies from 288 mm to 800 mm and the speed, the number of passes and the length of the stroke are completely adjustable to fulfill different production requirements.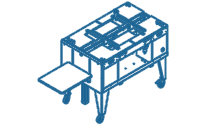 Thanks to close relationships with our Customers and other Companies in the textile sector, we have designed new solutions for pre- and post-printing processes.
"PUNTO COLLA" is a spray system to bond the fabrics to the printing tables. The ecological water-based glue "Colla 2207" does not give off bad odors, is not volatile and non-toxic.
The tub for frames "VSTV" is made entirely of PVC to better withstand corrosive effects, due to the acids used during the processing of the frames.
The "TREINUNO" is a Uv curer for frames with a compact integrated dryer, with three functions to engrave screen printing frames.
The "PYROMETER" and the "THERMOMETER WITH PROBE" are indispensable tools for precise temperature measurements.
In addition to the product lines dedicated to printing, a revolutionary machine was introduced in the 90's for the packaging sector: "SPEEDY T". This innovative semi-automatic machine is capable of folding and bagging garments quickly, in a regular and precise manner, with substantial savings in terms of time, space and costs.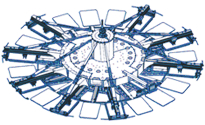 Since 2010 Chiossi and Cavazzuti is the official Italian Distributor for the automatic screen printing machines of the renowned Portuguese brand SROQUE, known for its "green" machines and above all for their precision and speed of printing.
Chiossi and Cavazzuti is also the distributor for American machines ASPE "Rapid Tag", the best solution on the market for small format.
In our portfolio "VIOLET" is the go to for manual screen printing machines, robust and reliable equipment.
Numerous Collaborators throughout the national territory allow us unparalleled training and technical assistance services for all the machines we sell.
We cannot allow our Customers to stop the production for long periods of time: our Technicians response is always steady and immediate.