SCREEN PRINTING AND DIGITAL PRINTING EQUIPMENT

Our company is a leading manufacturer of Dryers, Flash Cures and accessory Equipment for Screen Printing and Digital Printing.

Chiossi e Cavazzuti has gained over 35 years of experience with the best professionals and manufacturers of the Textile Market.

Roq, Kornit, Brother, Polyprint, Aspe, Anatol and many more
have established business Partnership with our Company to satisfy and answer to every Customer's need.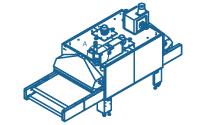 Chiossi and Cavazzuti was born in Carpi (Modena) in 1979 as a manufacturer of Dryers, specifically designed to dry inks on fabric, paper, glass, PVC and other various materials.
Our range of Dryers is extensive and includes: Gas or electric dryers, dryers with high hot air circulation, infrared radiant panel dryers, combined Dryers, tunnel or Dryers with drawers and custom-built Dryers to fulfill several heat treatment needs.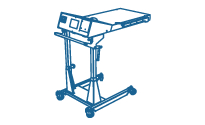 Our range of flash cures covers the needs of all screen printing machines:  automatic flash cures with temperature reading, manual flash cures with timer and independent lamps, sliding units with interchangeable radiator.
Each one has integrated cooling fans and can be equipped with photocell and start cable to connect directly to the printing machine.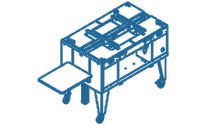 Thanks to close relationships with our Customers and other Companies in the textile sector, we have designed new solutions for pre- and post-printing processes:
Spray glue system, screen washing unit, Uv curer and dryer for screens, digital thermometers, folding and packaging machine.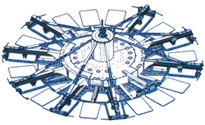 Since 2010 Chiossi and Cavazzuti is the official Italian Distributor for the automatic screen printing machines of the renowned Portuguese brand SROQUE, known for its "green" machines and above all for their precision and speed of printing.
Numerous Collaborators throughout the national territory allow us unparalleled training and technical assistance services for all the machines we sell.