CORE BUSINESS
Since Day 1 the first objective has been guiding our customers in the ultimate step to the realization of their project: dry and polymerize inks on the finished product.
Most of the producers of screen printing and digital machines are glad to cooperate with our Company. Chiossi e Cavazzuti's ovens guarantee a very good quality and low consumption of curing system. We have been constantly keeping our objectives of Quality and Reliability, creating functional products designed in compliance with the latest safety and enviroments standards.
Even today we perform technical assistance to machines that have been produced more than 20 years ago, witnessing its structural solidity and longevity.
Our great range of Dryers allows our Company to fulfil 100% of Customer needs: in the last decade digital printing have improved greatly in terms of quality and cost efficency; our forced air Dryers are specifically designed to dry digital print and follow the evolution of this technology.
The "TETRIS" gamma is based on modular structures that enable multiple solutions regarding production and power, while maintaining the same efficiency and control units.
From left to right: Ace 950, Tandem 950, Dual 1200, Dual 1900, Poker 1900.



The "Dido Pro" and "Dido Shop" are electric digital drawers ovens designed for small laboratories and shops, proving their strenght with small dimensions, low consumption and precise time and temperature control.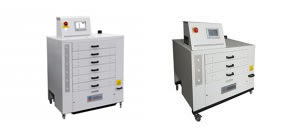 For the screen printing market products like Fahrenheit (gas or electric) and Noir are consolidated and "well-oiled" machines thanks to the experience grown in more than 30 years.
Our Company however does not stop finding new solutions and experimenting, like the new born "Griff".
From left to right: Noir 2500, Noir 3750, Noir 5000, Fahrenheit Gas, Griff.

A careful study of the design led to the creation of the first infra-red lamps, specifically meant for drying printing inks. These products have become a standard product and a reference point for quality and reliability both in Italy and abroad. Our solutions include intermediate drying system and sliding flash cures for automatic and manual printing machines, with temperature control and optic pyrometers. "Magic" flash cures are ideal for automatic screen printing machines because they ensure easy use, low consumption and high performance, automatically switching off when the maximum temperature has been reached. Below are shown Magic 7000, Spot Easy, Yo-Yo (sliding radiator unit).

Thanks to the close relationship with customers and manufactures in the screen printing sector, our Company has managed to design effective solutions for both pre- and post-print process. In addition to all these lines of products, meant for screen and digtal printing, in early 2000 a new revolutionary machine for the packaging sector, Speedy-T, was introduced. The result was this innovative semiautomatic machine, capable of folding and packing clothing items in bags with considerable savings in terms of time, money and space, thus solving the problems of an increasingly demanding clientele. From left to right: Sprayfix, Punto Colla, Speedy-T

The Alluplan pallet tables are produced using aerospace quality materials with high mechanical and thermal resistance, made of honeycromb lighweight aluminium resistant to solvent, for both digital and screen printing machines.
Thanks to our good references on the market we reached numerous important and exclusive trade agreements with Roq International for automatic screen printing machines, Aspe for screen printing on labels and Anatol Spe for manual screen printing machines. A strong partnership has started with  Brother and Polyprint in the digital printing market.
With approximately 7.000 customers, 50 International and 20 Italian distributors our brand is a well known protagonist in the screen and digital printing global market. Our website www.chiossiecavazzuti.com receives every day from 150 to 200 new contacts/visitors.