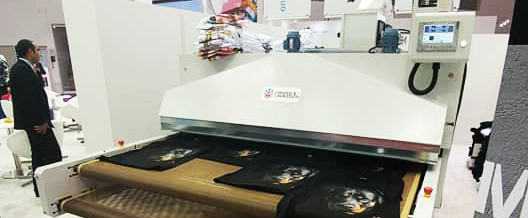 Chiossi and Cavazzuti has been reconfirmed this year as one of the leading companies in the textile industry.
From May 8th to 12th in Hamburg, the presence of our dryers has been evident in almost every industrial, digital and screen printing booth.
There has been a lot of interest in our "Tetris" forced air dryers, specifically designed for digital printing, thanks to the many improvements implemented during 2016, both to the digital Plc, the conveyor belt motor and other internal components.
The folding machine "Speedy-T" has never stopped to attract the attention of many Companies in our stand, thanks to its unrivaled speed and its high folding quality.
We want to thank our Partners: Kornit, Brother, Polyprint, Heinz Walz, Shima Seiki, Hebbecker, ESC, IVM
Share