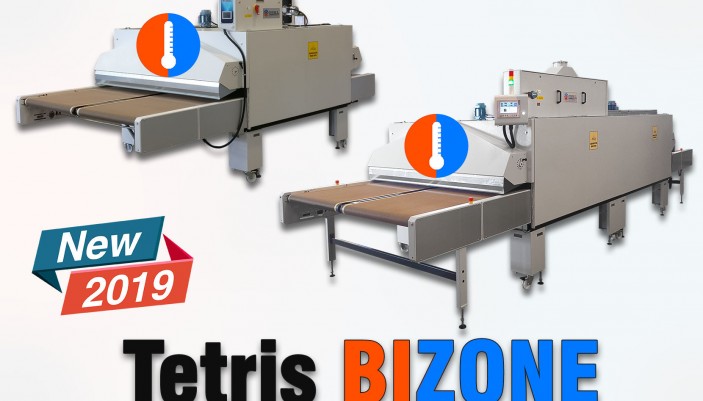 Electric Modular Dryer
Forced Hot Air System
2 Heating Module
Features:

TETRIS 1900 BIZONE
The TETRIS 1900 platform has been split in two independent 950 modules: this will effectively results in having 2 dryers with the footprint of 1.
FEATURES:
Max Temperature: up to 180°C in each zone
Drying Area: 2000/4000 x (950 + 950) mm
Independent belt speed and temperature control for each module
Available only on DUAL 1900 and POKER 1900
Advantages:

NEW TECHNOLOGY
This new configuration will provide unmatched results when 2 different products need to be cured simultaneously, thus avoiding the requirement of 2 different dryers, reducing overall dimension and power consumption.
Every heating module has a dedicated temperature probe, a solid state relay that controls the power to the heating resistor and a separated temperature controller that commands the SSR according to the temperature set point and the temperature measured by the probe in real time.
The graph below displays temperature readings inside the tunnel in different positions, specifically at 10-45-85-95-135-185 cm from left border of the 1900 mm wide belt conveyor.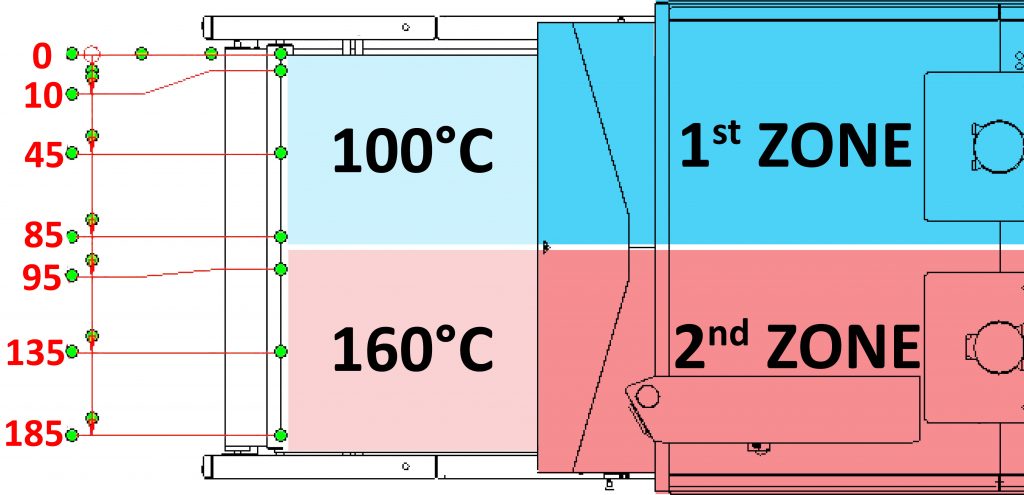 The measurement was carried out using an external high precision probe, placed over a garment.
The test started once the temperature of the left module stabilized at 100°C (positions 10-45-85 cm) and the right module at 160°C (positions 95-135-185 cm).
Blue, Red and Yellow lines show the temperature readings of the first zone, set at 100°C.
Green, Purple and light Blue lines display the behavior of the second zone at 160°C.
It is evident the temperature difference between the two modules, with a clear separation even in the closest middle points of the 85 cm and 95 cm readings.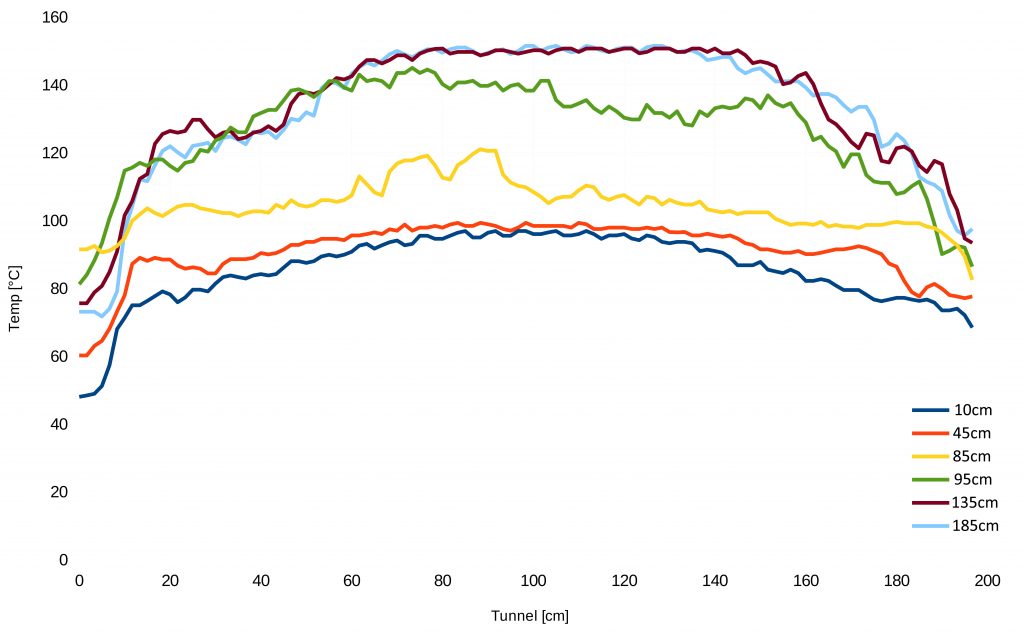 POKER 1900 – Product page link
| | | |
| --- | --- | --- |
| TECHNICAL DATA | DUAL 1900 | POKER 1900 |
| Electrical Requirements | 400V 3P + PE / 43A | 400V 3P + PE / 86A |
| Exhaust Specification | Ø 150 mm 180 m³/h | Ø 150 mm 360 m³/h |
| Max Temperature | 180°C | 180°C |
| Power Consumption | 28 kW | 57 kW |
| Tunnel Length | 2000 mm | 4000 mm |
| Belt Width | 2 x 950 mm | 2 x 950 mm |
| Production (5 minutes of drying time) | 220 pieces/h | 440 pieces/h |
| Dimension* | 4100 x 2200 x 2250 mm | 6100 x 2200 x 2250 mm |
| Shipping Weight* | 1050 kg | 2200 kg |
| *Overall dimension and weight may change in relation to inlet/outlet extensions | | |